Ad Disclosure
Casino Professor is an affiliate website. All casinos listed are our partners from whom we earn a commission. Read more about our Ad Disclosure and please Gamble Responsibly.
Pay by SMS Casino UK – Play pay by text slots

If you're looking for an SMS bill casino UK then you're in luck. There are plenty of sites that allow you to quickly make an SMS casino deposit with ease. When you pay by SMS at a casino, the charge will be added to your next bill or taken from your available credit. So there's no need to create an account. But not all casinos accept this payment. So we've put together a list of the best SMS casino sites for UK players below.
Pay by SMS casino list – Top 5
Top SMS online casinos
Being able to deposit by SMS at casinos has been around for a few years now. There are now a lot of slots sites where you can make an SMS casino deposit in 2023. That's because this is one of the casino payment methods available in the UK that's grown in popularity over the last few years. So more slots sites are starting to offer it. But some sites are better than others in our opinion.
Here's our list of the very best SMS online casinos for UK players:
Best pay by SMS casino – MrQ
Top slots pay by phone bill – Jackpot.com
Unique deposit by phone slots – Dr Slot Casino
Best SMS casino deposit – Bonus Boss Casino
Top pay by text casino – NetBet
VIDEO: Watch us make a deposit at MrQ Casino
How to pay by SMS text at a casino
Time needed: 3 minutes
Guide to making an SMS deposit at UK online casinos.
You also need:
Internet

Smartphone, tablet, or computer + UK mobile number
1. Add your UK phone number
Choose to pay by SMS from the list of deposit methods and write out your full UK phone number. You often need to add the UK country code (44) instead of the first zero as shown here.
2. Select how much to deposit
Choose how much you want to deposit from the list of options. The minimum and maximum deposit amounts are usually different depending on each site.
3. Receive a confirmation code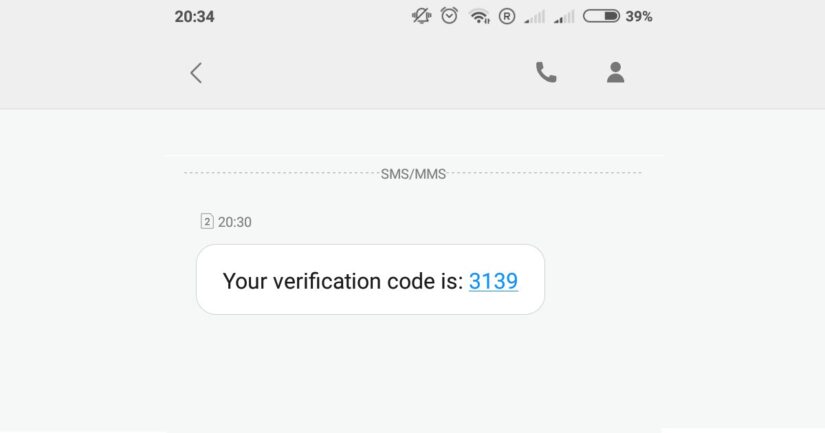 The casino will then send you a confirmation code via SMS text message. So make sure you have enough signal to receive it.
4. Enter the code to verify
Enter the code into the casino's site. This is done to confirm that you're actually using your own UK mobile phone number.
5. Payment added to bill or deducted from credit
The charge is either then added to your phone bill to pay later, or deducted from your credit immediately. In our case, it was deducted from phone credit as shown here.
Can I withdraw using SMS?
You can't withdraw money via SMS at a casino. The mobile networks only allow customers to send money, not receive it.
This probably isn't going to change either. As would you really want to win something only for the money to be placed back on your SMS bill? Probably not. It's more likely that you would want access to the cash so you could spend it if you wanted to.
So if you do make an SMS casino deposit then you will need to use a different method to withdraw any winnings.
You are usually required to use bank transfer to withdraw. Sometimes this is a problem as transactions can take several business days. But recently, an instant bank transfer casino UK has become available. You just log in using your online banking details and any payouts are often in your account within minutes of being sent.
SMS casino deposit bonus
Nearly all of the sites above offer a deposit bonus on real money deposits. Especially if it is your first deposit.
These bonuses can often be activated by an SMS deposit (but sometimes they are exempt). You'll also need to deposit the minimum amount to trigger the bonus. This is usually £10 but sometimes it can be more.
So it's always best to check the terms and conditions of each offer. This will confirm what payment methods you can use and what the minimum amount is.
Remember that the maximum SMS deposit is usually £30. This usually won't give you a lot of bonus money. You may want to consider using a different payment method with a much higher limit for your first deposit to benefit from more bonus money. You can then switch to SMS payments afterwards.
Of course, an SMS casino with a no deposit bonus won't even require a deposit. You just need to sign up and you'll be given a bonus – such as free spins – to play with right away.
Mobile casino pay by SMS – How does it work?
A casino deposit via SMS text is a really simple way to fund your account. All you need is an active SIM card from an eligible UK network that can receive SMS text messages. You do not need to create a separate account as everything is done using your phone number.
How you pay for the casino deposit depends on how you pay for your mobile phone usage. For example:
Mobile phone contract: The deposit amount will be added to your next bill.

For example: if your phone contract is £10 and you make a £10 casino deposit, the charge will be £20 the next time you pay.

Mobile phone credit: The deposit amount will be immediately deducted from your available Pay As You Go (PAYG) credit.

For example: if you have £30 in phone credit and make a £10 casino deposit, the charge is taken straight away and your phone credit drops to £20.
No matter which way you pay, your casino deposit will be available immediately. So you can start to play the slots and games straight away.
How safe is it to deposit via SMS bill?
Paying using your mobile phone bill in the UK is safe to do. This payment process is regulated by the Phone-paid Services Authority (PSA). They ensure companies that allow customers to pay by SMS are operating responsibly.
Every UK casino will always verify your mobile phone number first before processing a deposit.
They do this to confirm that the player is using a mobile phone number that they own. This helps to prevent rogue charges to random numbers – along with other fraud.
If you have a problem with an SMS bill payment, you must attempt to resolve this with the provider (casino) first. If you consider the matter unresolved, you can contact your mobile phone provider or seek help from the PSA.
What UK mobile networks work for an SMS casino?
Each SMS deposit casino decides which UK mobile phone operators they will accept payments from. So exactly what operators are accepted depends on each casino. Here are a few examples:
| SMS Bill Casino | Accepted UK mobile operators | Review |
| --- | --- | --- |
| MrQ | EE, 02, Vodafone, Three & more | MrQ Casino review |
| Bonus Boss | EE, 02, Vodafone & Three | Bonus Boss Casino review |
| Dr Slot | EE, 02, Vodafone & Three | Dr Slot Casino review |
| NetBet Casino | EE, 02 & Vodafone | NetBet Casino review |
| Casino 2020 | EE, 02, Vodafone & Three | Casino 2020 review |
The PSA also have a record of what mobile phone operators are accepted at each casino. Visit their Service Checker tool and input the following:
Select your network operator
Enter the casino's name (e.g. MrQ)
A list of matching results will be displayed. If the casino accepts your mobile phone operator then it should show up.
Overall, the UK's main mobile phone operators – EE, 02, Vodafone, and Three (3) – are widely supported. If you are a customer of one of these providers then you should be able to deposit via SMS at the casino. If you are a customer of a smaller operator – GiffGaff, Sky Mobile, Tesco Mobile etc – then you will have to check if these networks are supported. Contact the casino's customer support team to ask.
What are the deposit limits at a Pay by SMS casino UK?
The minimum amount you can deposit depends on the casino. Usually it's either £10 or £20. But SMS text deposits sometimes allow for smaller payments. For example, you can find a £3 minimum deposit casino UK which supports this method. Here are a few examples:
| Casino | Minimum SMS deposit | Maximum SMS deposit |
| --- | --- | --- |
| MrQ Casino | £10 | £30 per day (£240 per month) |
| Jackpot.com | £10 | £30 per day |
| Dr Slot Casino | £3 | £30 per day |
| Bonus Boss Casino | £3 | £30 per day |
| NetBet Casino | £10 | £40 per day |
| Casino 2020 | £3 | £30 per day |
Most casinos only allow a maximum SMS deposit amount of around £30 – £40 per day. There may also be weekly or monthly limits. For example, some sites may only allow a maximum of £240 to be deposited each month. This will be explained in full on their site.
Mobile slots pay by SMS
Paying by SMS allows you to play all of a casino's online slots and games, as long as you are using your own money. This is because you have no restrictions when playing with your own money. Anything you win will be real money.
However, if you activate a bonus with an SMS deposit then you are given bonus money. When you use this bonus money, you might only be able to play a selection of games, depending on the bonus terms and conditions. What's more, you most likely won't win real money straight away. That's because you often need to complete wagering requirements when using bonus money, before it becomes withdrawable.
SMS deposit casino UK – Are they legal?
An SMS deposit casino UK must have a licence from the UK Gambling Commission. This ensures they are operating legally within Great Britain. All casinos we've listed on this page have this licence.
The UK Gambling Commission also makes sure that there are proper safety measures in place at all UK online casinos. For example:
Online casino verification UK: A casino must verify your identity before allowing you to play. This is done to make sure you are old enough to gamble and to make sure it's really you who is playing.
Responsible gambling: A casino must promote responsible gambling measures. You are encouraged to set deposit limits and time limits to help keep your gambling safe.
Fair terms and conditions: A casino must have terms and conditions that are fair. Any important or significant terms must be displayed before you can play. We strongly recommend reading the full terms and conditions yourself.
Pay by SMS casino alternatives
Although paying by SMS text is a good option for casino players, it's not always ideal. Here are some examples of when you might want to choose an alternative:
You are triggering a bonus and want to receive more bonus money
You want to deposit more than the daily limit (usually £30 – £40)
Your mobile phone operator is not supported.
In these cases, you have many alternative casino payment methods you can choose from. Here are some of the most popular with British players at the moment: