The rise of the pay by phone casino in UK has gathered a lot of steam thanks to mobile gaming – and we're going to show you the best ways to deposit via mobile in this article. There are a number of methods you can use to pay at a casino using mobile, such as via your phone bill at Boku casino sites or via other means at not Boku casinos.
Jump to:
We'll show you how each pay by mobile casino method works but they are all generally very quick and simple. However, there are a few things to consider before you get started – such as deposit limits and their effect on casino bonuses – which may impact which one you use.
Pay by Phone Casino Not Boku
You can find a pay by mobile casino that's not Boku relatively easily. What's more, you're given a few different methods to try out.
For example, you can pay by SMS which then charges you through your phone bill or credit. This is similar to Boku but uses different carriers or processors. Alternatively, you can use dedicated mobile casino eWallets and apps, or go very old school by calling up and paying over the phone.
Pay by Phone Bill
If you want to pay with phone credit or bill via SMS then Casumo is one of your best not Boku options. Instead, they use Fonix which is supported by most major UK mobile networks such as Vodafone, 3, EE, 02, and more.
Here's how to facilitate deposits using Fonix:
Select "Pay by Mobile" under Deposits
Choose how much to deposit and wait for an SMS
Enter the 4-digit code you receive
Deposit Limit: £10 – £30 per deposit (£240 per month)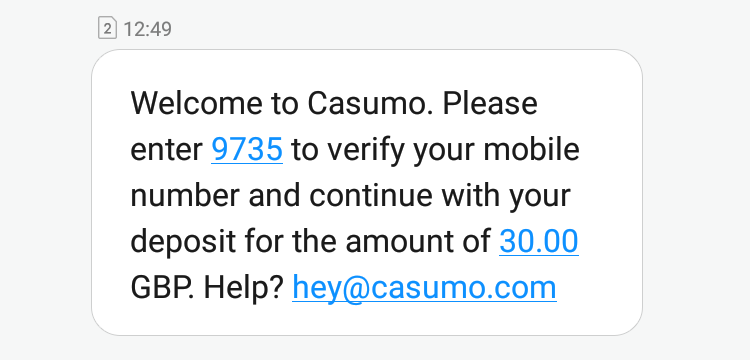 4-digit SMS code when depositing via Fonix
Why trust Fonix? Fonix is a 2006-founded mobile payments service with accreditation by Vodafone and EE – two of the UK's biggest mobile networks with approximately 50% market share (Statista). In terms of safety and security, the fact that Casumo is on board says everything as they're one of the most trusted sites around.
Pay by Mobile Casino Apps
If you don't want to pay at a casino with SMS then you can try one of the above sites with MuchBetter. This is a relatively new method which works exclusively as an app. Here's a video on how to deposit at a casino using MuchBetter
Select "MuchBetter" from the Deposits page
Enter your deposit amount and enter your phone number (linked to your MuchBetter account)
Approve the transaction within the MuchBetter app
Deposit Limit: Varies per casino (fees may be included!)
Why trust MuchBetter? The app is licenced by the UK Financial Conduct Authority under parent company MIR Limited (MuchBetter is listed under "Trading/brand names"). There are multiple security features in place and a decent selection of MuchBetter casinos already despite the recent launch.
MuchBetter's rise saw them land the 2018 EGR award for Services Rising Star (EGR – 2018 Winners).
---
Another no Boku option is at an Apple Pay casino. Many people have Apple Pay as part of their daily spending routine which has led to a few casinos implementing it as well. Here's how to deposit at Apple Pay casinos:
Select "Apple Pay" from the Deposits page
Enter your deposit amount
Approve the transaction using either Touch ID or your passcode
Deposit Limit: Varies per casino
Why trust Apply Pay? No introduction is needed as Apple Pay is one of the most widely used pay by mobile phone methods across the world. There are several security features included and you can also use it to withdraw from an Apple Pay casino.
not bok
Pay by Phone Casino UK
If you want to deposit by mobile but with no Boku methods, SMS or even the internet then your final pay via phone casino option in UK is very old school – go and give them a call!
Find a casino that accepts telephone payments (such as above)
Ring them up (be careful to check it's UK freephone)
Follow the instructions of the agent to make a payment
Deposit Limit: Varies per casino
Why trust a telephone casino? Sure, it seems a bit unconventional but there are many reasons why you may want to pay using phone at a casino. Perhaps you don't want your details shared online, or maybe hearing an actual voice confirming the transaction is reassuring. Whatever the case, it still is an option in some cases.
---
Pay by Phone Casino Boku
If you decide that a pay by phone casino with Boku is for you then you have many options available to you. Again, you can use Vodafone, 3, EE, 02, and other major UK networks to deposit using your phone bill.
Deposit by Phone Bill Boku
To make a Boku deposit:
Select "Boku" or "Pay by Phone" from the Deposits page
Choose how much to deposit and enter your mobile number
Wait for an SMS and confirm the transaction
You will be charged either by your monthly bill or phone credit
Deposit Limit: £10 – £30 per deposit (various limits each month per casino)
Why trust Boku? This mobile payments facilitator was founded in 2009 and has partnered with some of the biggest organisations in the world – Facebook, Spotify, Google and more (Boku – History & Development). Furthermore, Boku is publicly listed on the London Stock Exchange (BOKU, INC).
If you ever get into any problems, you can visit Boku's Customer Care Portal alongside asking the casino's customer support team.
Boku Pay by Phone Casino – Full List
With such a good reputation, the casino Boku payment continues to rise. However, these casinos are not as widespread as other payment methods and some don't advertise Boku as much.
We make finding additional Boku slots sites much easier:
Go to our Casino Sites (opens in new tab).
Find our filter tools above the casinos – "Categories", "Deposit", "No Deposit" and "More".
Select "More", choose "Boku" from Payment Methods, and hit "See Casinos".
Find the best pay by Boku casino for you!
Payforit Casino
Another way to pay by SMS through your phone bill is at a Payforit casino. Again, this works in a very similar way to Boku and Fonix and Vodafone, 3, EE, 02, and the others are accepted.
Here's how to make a deposit at a casino with Payforit:
Select "Payforit" or "PayviaPhone" under Deposits
Choose how much to deposit and follow the instructions
Enter the 4-digit code you receive from an SMS
Deposit Limit: £10 – £30 per deposit (fees vary per casino!)
Why trust Payforit? This mobile payments system is widely used across the UK and is jointly owned by four UK network providers (Payforit). While it is not a registered company, you can query any problems directly with your carrier.