Quick verification casino UK – Find easy verification casinos
The online casino verification process UK is very important. Since May 2019, players in Great Britain must be verified by an online casino before they can play. This helps to keep you safe. There are no exceptions to this rule – even for no deposit offers like free spins. To start playing quickly, you'll need to get verified as soon as possible. Here, we'll list all verified online casinos that follow this safe and secure process – while also listing sites that are a quick verification casino.
Easy verification casinos
Below you can find all UK online casinos with an easy verification process. You'll either be verified in an instant or you'll need to send in documents to their team for fast approval.
Quick verification casino
Out of our entire UK online casinos list, these UK casino sites have the quickest average verification timeframes at the moment:
MrQ Casino
Jackpot.com
Lottoland
Duelz
PokerStars
Casumo
Pink Casino
Betfred
Playzee
William Hill
If you want more detailed information about each casino's verification process then you can read our review. We write a dedicated section about this in all our reviews.
Instant verification casino
The best case is that you benefit from a casino with instant verification. This is when the casino is able to automatically verify the personal information you give when signing up.
This is done by matching your information with certain databases – such as those sourced from credit reference agencies or the electoral roll. Therefore, it's very important to input your personal information correctly when signing up otherwise a match will not be found.
If this automatic procedure is successful then you will be able to play online casino without verification documents being required. You can go straight ahead.
Casino verification process
However, if instant casino verification is not granted then it will turn into a manual process. This can happen if your personal information (such as your address) has recently changed, or if you are not registered on any databases.
You'll have to send in documents that prove your age and identity. As confirmed by the UK Gambling Commission, here's a list of documents you might be able to use to verify your casino account:
Passport
Driving licence
Household bill
Bank statement
We had to verify ourselves manually when signing up at LeoVegas. Here's a video showing the entire verification process:
The casino will have to verify your documents manually. But as they are not allowed to let you gamble until you're verified, it's in their best interest to provide a quick verification process. In our case with LeoVegas, we were fully verified in just over 30 minutes.
Gaming online casino easy verification
You have a role to play here too. Make sure to send clear copies of up-to-date documents. This makes it easy for the online casino verification team to approve your documents and speed up the process. If all goes well then manual verification can be completed the same day.
Even if you are lucky enough to be automatically verified, we still recommend keeping documents on hand. That's because casinos may request these documents at a later stage, such as if you want to make a deposit to get casino bonuses. You may have to verify a UK mobile number at this stage as well, as most sites are starting to offer a mobile verification casino bonus.
Why do I need to verify?
By providing these documents, the casinos are able to:
Check you are old enough to gamble
Check you have not self-excluded from gambling
Confirm your identity
This helps to keep you safe while playing.
Sign up with phone number casino
Although not a requirement of the UK Gambling Commission, a few UK online casinos are a sign up with phone number casino. This means you will need to verify your UK mobile phone number in order to create an account and play.
A mobile number registration casino will include a field in the registration form where you need to put your phone number. Once confirmed, you will then be sent a code via SMS. The website will ask you to input this code. It will look something like this: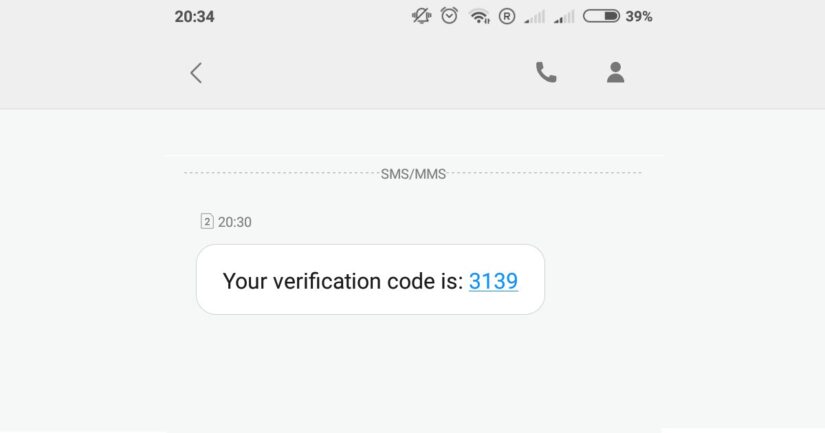 Once this is done, the sign up with phone number casino verification will be complete.
Casino verification withdrawal
Online casino verification is not always complete after this, which leads to probably the most common complaint that online casino players have – verification when withdrawing. Sometimes, you are asked to provide even more documents to get access to any winnings. This is particularly common if the player is trying to withdraw a large amount – which many consider to be the casino deliberately stalling to try and get out of having to pay. However, this extra verification is legitimate, as confirmed by the Gambling Commission.
However, there have been stories about casinos only asking for ID documents when a withdrawal request is made. To combat this, the UK Gambling Commission's policy instructs casinos to complete verification steps as soon as they become necessary, rather than waiting for a withdrawal to be requested. However, the policy also states that this "does not prevent a licensee [the casino] from seeking further information about the customer [player] which they must obtain at that time due to any other legal obligation". An example of this would be anti-money laundering checks. So, in rare cases, you may be asked for proof of these documents to verify your withdrawal request:
Proof of payment method
Copy of bank card
Source of income
Why do I need to take a selfie?
Sometimes a casino may request for you to send a selfie to them for additional identity confirmation. This may happen, for instance, if the casino thinks there's a chance that someone is playing in another person's name. Again, although this may seem a strange request, a casino asking for a selfie is a genuine request, as confirmed by the Gambling Commission.
You may be asked to send just a selfie on its own, or possibly a selfie while holding one of your verification documents – like a passport or driving licence.
UK casino verification problems
The reason why you have to verify your identity is because of rules set out by the UK Gambling Commission (UKGC). All gambling sites operating in the UK must have a licence from the UKGC. This ensures that players are protected by the many Gambling Commission rules and regulations.
In May 2019, the Gambling Commission's rules were changed so that all operators must verify a customer's (player's) name, address, and date of birth before allowing them to gamble. Of course, players were not used to this. Sending copies of sensitive documents was seen as over-the-top. It can also take some time to complete. But it's done to help keep you safe while gambling. For example, it helps to prove you haven't self-excluded from gambling. All your documents are stored securely too.
Problems with casino verification when withdrawing are very common as some players consider this to be a tactic to delay a payout. But all legit and licenced casinos need to help prevent money laundering and other financial issues. Unfortunately, this can take several days and players often complain about it. However, these problems are often resolved when the extra verification documents mentioned above are provided.
At Casino Professor, we only list UK casinos with a Gambling Commission licence – so all sites follow these rules. We strongly recommend avoiding any illegal and unregulated gambling sites, such as casinos not on Gamstop.
FAQ
The casino needs to check who you are, that you are old enough to gamble, that you haven't self-excluded from playing, and a few other things. It's a very important process that helps to try and keep gambling safe.
It can vary. Sometimes the initial verification can happen immediately, whereas other times you may need to send copies of ID documents. Most likely, you'll have to send those ID copies at some stage anyway to complete the verification process.
Yes. The UK Gambling Commission requires players to be verified, and these documents are often the only way to prove your identity. Whatever you submit is stored safely and confidentially.