Ad Disclosure
Casino Professor is an affiliate website. All casinos listed are our partners from whom we earn a commission. Read more about our Ad Disclosure and please Gamble Responsibly.
Wazdan Casinos UK
The Wazdan casino UK is getting ever popular. This is a site that has Wazdan slots and games ready to play. But despite the popularity, not all sites have these games. So you have to look specifically to find them. To help with that, we've chosen our list of top UK casinos with Wazdan slots and games. Take a look below.
Wazdan free spins
It's pretty easy to find free spins at UK casinos. But free spins for Wazdan slots specifically? That's much harder. In fact, we don't have any right now.
We will update this page if any of these become available.
Wazdan no deposit bonus
We do not have any no deposit bonuses for Wazdan slots and games either.
New Wazdan casinos
The number of quality brand new online casinos UK has been slowly declining recently. Luckily, some sites on our UK online casinos list have only recently added Wazdan slots to their portfolio. So you can try a few of these for a new experience.
MrQ is a good example of this. They only recently partnered with Wazdan despite being live for many years. Not only is a wide selection of their current slots now available, most new releases will likely be added too. So you can continue playing their games.
Slots
Wazdan have been around for more than 10 years now. This means they've established a pretty big gaming library for casino players to enjoy. They mostly focus on developing slots, with new titles being released on a regular basis.
While players have different preferences, here's an example of a few Wazdan slots that are very popular with British players:
Fortune Reels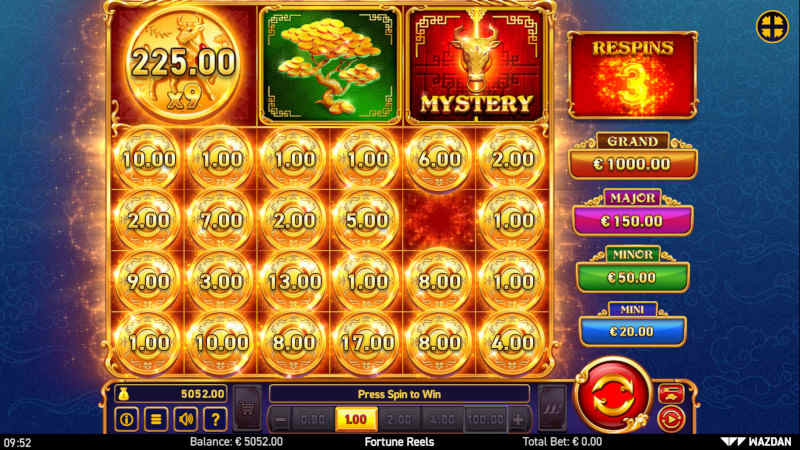 Their Chinese-themed slot game, Fortune Reels, provides players with 5 reels of gameplay that's steeped in culture. There's a total of 46,656 ways to win, alongside a variety of bonus features that players will hope to trigger as they play. The slot is also known for its Hold the Jackpot reward – of Mini, Minor, and Major proportions.
Fortune Reels RTP: 96.12%
Game Features: Hold the Jackpot, Expanding Wilds, Gamble Feature
Wazdan Features: Big Screen, Volatility Levels™
Max Win: 2100x
9 Lions
The award-winning slot 9 Lions is based on a lot of tradition, with mystic mountains, ancient gods, and lion symbols making up your gameplay. You win by landing a certain number of the same symbol anywhere across the reels, with plenty of bonus features on top. This game scooped the Hot Product Award at G2E Asia 2018.
9 Lions RTP: 96.59%
Game Features: Lions Bonus, Dragons Bonus, Block Symbols, Gamble Feature
Wazdan Features: Big Screen, Ultra Lite, Volatility Levels™
Max Win: 1000x
Sun of Fortune
A mix of dragons, dragon turtles, koi fish, and phoenixes makeup the artwork and symbols for the Sun of Fortune slot. It's one of their titles that offers their Hold the Jackpot bonus, with wins set at 3 different tiers. It's a simple yet fun design.
Sun of Fortune RTP: 96.15%
Game Features: Hold the Jackpot, Wilds, Gamble Feature
Wazdan Features: Big Screen, Energy Saving Mode, Volatility Levels™
Max Win: 1450x
Dwarfs Fortune™
The aim of the game in the Dwarfs Fortune™ slot is to unearth a hidden set of treasures that are buried deep underground. You work your way down a mine, with the further you go resulting in bigger potential wins. A Hold the Jackpot feature is available – granting wins on three different scales.
Dwarfs Fortune™ RTP: 96.16%
Game Features: Hold the Jackpot, Sticky Bonus Symbol Value Increase, Wilds, Multipliers, Gamble Feature
Wazdan Features: Big Screen, Double Screen, Energy Saving Mode, Ultra Lite, Volatility Levels™
Max Win: 2500x
Sizzling Moon™
The Sizzling Moon™ slot is a 16-reel, high-paced action slot – with a variety of special features to make the game even more entertaining. The Hold the Jackpot feature is available – granting Mini, Minor, and Major wins – with the game's artwork made-up of flammable symbols.
Sizzling Moon™ RTP: 96.14%
Game Features: Hold the Jackpot, Sticky Bonus, Wilds, Gamble Feature
Wazdan Features: Big Screen, Volatility Levels™
Max Win: 2500x
Unique Wazdan Features
With so many game providers these days, Wazdan have created their own Unique Features to try and stand out from the crowd. These provide players with a variety of extras, some of which they can choose to match their preferences.
You can see from the above slots that many of these Unique Features can be found in every game they release. But what do they do? Here's a breakdown of each Feature's description.
Volatility Levels™
Slot volatility has always been difficult to decide. In theory, higher volatility can result in a lower frequency of wins, but bigger prizes when they do land. On the other hand, lower volatility can result in more wins landing, but with lower amounts. So it's a case of player preference about whether to go for low, medium, or high volatility/variance.
But with Wazdan's Volatility Levels™, players are able to choose High, Standard, or Low mode themselves. This allows players to choose a gameplay style that they enjoy the most.
Ultra Lite Mode
Although most players have access to high-speed internet on their mobiles these days, there are odd occasions where your connection may be low. Wazdan's Lite Mode is perfect for these situations.
You'll be able to load games up to 5 times faster than normal to meet your needs. Of course, a few features may not be available to enable this – but these are mostly related to artwork and animations rather than the gameplay or mechanics.
Big Screen Mode
Instead of the reels only taking up part of your screen, you can enable Big Screen Mode to enlarge the reels to the edge of your screen. This brings you closer to the action so you can see what's going on in greater detail. You have two zoom options to choose from, giving you greater control on how you play Wazdan slots.
Special Wazdan Features
While these next set of features may not be unique to Wazdan, they are very useful in enhancing the gameplay and entertainment even further.
Gamble Feature
When you land a winning spin, you can choose to gamble your winnings for a high reward. The chance of winning is 50%. So of course there's a chance that you'll lose your original win.
You can choose to gamble up to 7 times. Although you can decide to take your winnings beforehand if you want.
Energy Saving Mode
Similar to Ultra Lite Mode, you can choose to play certain slots in Energy Saving Mode. This can reduce power consumption by around 40% to save you from running out of battery.
It's mainly aimed towards mobile players, but it can be enabled on a range of devices.
Double Screen Mode
Instead of constantly flicking between from the reels to paytables, gameplay information, and other helpful screens, you can enable Double Screen Mode instead.
This will allow you to see both the reels and more information at the same time. Of course, the reels will be smaller to accommodate the other information, and it's only available in portrait mode on mobile devices.
Other games
Alongside slots, they occasionally delve into other types of casino games. For example, at the time of writing, they have created their own versions of:
Blackjack
Roulette
Poker variations
Sic Bo
Bingo
However, the vast majority of their games are slots.
Live casino
At the time of writing, Wazdan do not have a live games studio. This means you cannot play blackjack, roulette, and other classic games via video stream with them.
If this changes then we'll be sure to update this section to let you know.
Is Wazdan legit?
Of course, you should only play slots and games that have been developed by credible providers. Wazdan falls well within this category. They have a UK Gambling Commission licence which is always the first thing to look for. Why? Because only game providers with this licence are legally allowed to operate in Great Britain. This proves that Wazdan is legit.
But are Wazdan slots rigged? No chance. Because the UK Gambling Commission forces all providers to send their games for testing. This is done by outside testing houses, not the game providers themselves, so that nothing dodgy is happening.
Of course, you should know that casinos always have a slight advantage from slots in the long run. This means you will likely lose your money the more you play. But this is a standard mechanic of pretty much all casino games.